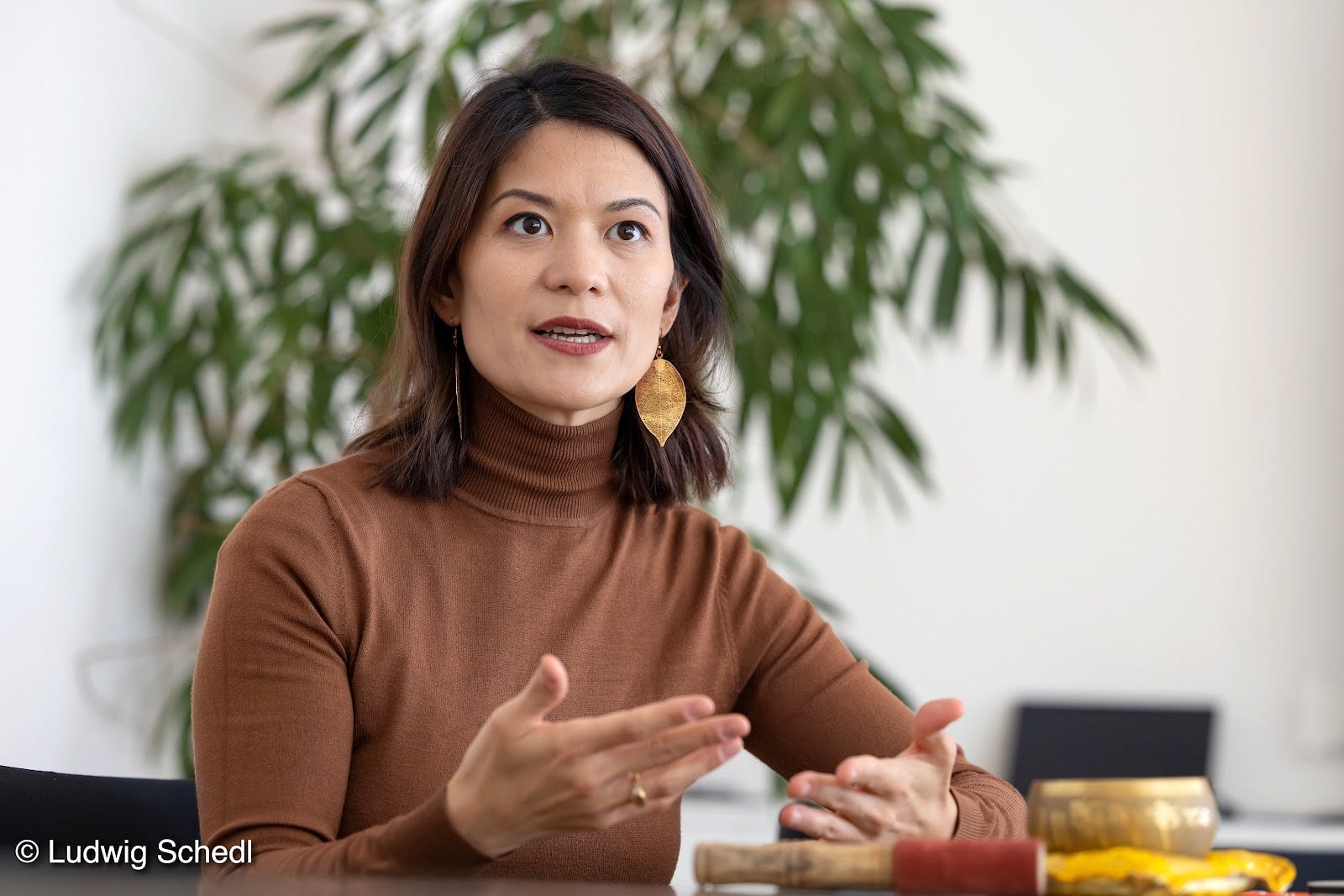 Which framework is needed to create an innovation-friendly climate in the healthcare sector - motivating MDs to start their own business?
In the healthcare industry, increased collaboration between the private and public sectors is becoming more important than ever. The private sector has a different working dynamic. As a woman and a physician myself, I am interested in research and development, and entrepreneurship, thus I am involved in various ecosystems in Zurich and Geneva, such as Campus Biotech or the University of Zurich. It is precisely when you bring together medical professionals and companies that groundbreaking new ideas emerge that benefit medicine. How this can work in practice can be seen where clinics, medicine, research, and companies come together. Europe offers opportunities for private-state collaboration in cutting-edge research and industry, and innovation centers are getting more proactively promoted, especially in Switzerland where I am based. London and NYC, for example, have long been hubs for public-private collaboration. For example, there are several college and startup ecosystems supported by the state and cantons. There are clearly defined interfaces between medical research and industrial technology development - a thriving ecosystem that could also be more strongly promoted elsewhere.
Music, life sciences and sustainability are big topics in your life. Why did you bring these fields together?
What is music? It is a physical, sensory input processed through our senses.
What is consciousness? We don't really know, but part of it is the processing of sensory inputs.
How can we sustain a relationship with our environment? Through perception, processing, and awareness. I call this relationship "Eco-Awareness".

I found music and sound to be very helpful for Eco-Awareness, even as an antidote to recently rising eco-anxiety. Audible and vibrational inputs modulate self-consciousness and play a critical role in our relationships with ecosystems. We relate to our environment through our senses and perception. Music can support the connection of self-consciousness with environmental awareness. Applied in a resource-nourishing manner, music can support us in brain health, resilience, and stress management.

I started playing the violin at the age of five and was professionally trained for twelve years. Already during my training I noticed that music has a great influence on my mental level. This fascinated me so much that I decided to study medicine to better understand the brain and the body. During my studies, music also provided me with a good balance. At the time, it was not clear to me whether this was specifically because I was a musician, or whether music in general has a balancing effect. For me, music and medicine are not opposites, but have a synergetic effect. The parallel involvement in both fields has certainly shaped my attitude towards my professional development. During my medical studies in Vienna, I began working as a pop-rock musician and string arranger, and after graduation I played in Udo Juergens' orchestra and in the 21st Century Orchestra at the KKL Luzern. But I did not want to give up medicine, so I began a residency in psychiatry in Zurich and continued my training in music as medicine, global health and mind-body medicine in Boston. A prolonged field discovery phase followed in Asia and other continents, which eventually led to my current path - co-creating and sourcing transformative methods for wellbeing & health, exactly at this interface of consciousness, health, music.
Since 2019, you have been an international Advisor for the World Health Innovation Summit CIC. What is the idea behind this network, and what healthcare projects do you accelerate?
The idea behind WHIS was to create a platform in which patients, clinicians, managers, voluntary sector, academia and the business community can exchange ideas to develop community-based medicine and personalized care, and furthermore to generate a level in which health innovation finds a place and gets in touch with global promotion. This has led to the formation of expert groups, each responsible for overseeing and developing projects. One example is that we are working together with the UNGSII Foundation, UNSDSN to launch COP (Conference of the Parties) Olympics, where we started Changing the Narrative: COP is the chosen meetup for Global Changemakers for Climate Change. That meant creating an event that celebrates those who are focused on accelerating positive change by including all stakeholders to create opportunities for everyone to contribute by simply changing the narrative: in regions, countries, continents, and on a global stage to ensure the targets set are met and delivered by 2030. Another example is the concept of "Arts for SDGs" launched with WHO and partners. Specifically, artists from various communities around the world were invited to exhibit their artwork on the topic of mental health. We were also able to find global investors for medical tech startups and R&D projects. In the meantime, numerous projects have emerged through the promotion of SDG3-oriented innovation at the World Health Innovation Summit CIC.


WHIS' latest book chapter publication on ONE HEALTH will be available in March 2023:
One Health: Transformative Enterprises, Wellbeing and Education in the Knowledge Economy
How do Music and Medicine complement each other? Can you tell us more about your LMIC-related field studies on indigenous sound rituals?
Medicine and music complement each other in music therapy in many ways, for example in neonatology, Alzheimer's and Parkinson's therapy. But music also has a lasting effect on healthy people: for example, it has been proven that brain areas are more developed in long-term musicians - for example, the corpus callosum, the bar that connects the two halves of the brain, as well as certain brain areas that are relevant for sound and sensory processing. So there is still much to be explored. The term sound medicine is currently used to describe mental and physical recovery through trance states. I call my work with sound and vibration "Sound As Medicine" or "Sonic Medicine". It is upclose work with sensory perception - motion, vibration, sounds. In addition to music therapy, my personal interest also led me to study Asian systems of medicine for many years. In doing so, I came across meditation practices that use instruments and have great benefits for our "stress system". It is not only about coming to rest, but also about the regeneration of the nervous system. In doing so, I deal with meditation, vibration, self-awareness, neurogenic phenomena and mental health. During my years in Asia, I have become more familiar with the specific tools and methods used there. For example, the gong has a centuries-old tradition in Southeast Asia related to meditation, but so do Tibetan singing bowls and other instruments. For this purpose, sounds are used over a long period of time. Due to the sound frequencies, which vibrate in a very wide spectrum, one quickly enters a meditative state - without meditation experience. It is believed that the vibrations of the instruments help the body to relax deeply. In the process, the nervous system and the "stress system" are relaxed. We leave the fight & flight mode. Space is created for new insights, thought processes and behavioral changes.
Could you explain the difference between sound medicine / therapy / healing / meditation?
I often get asked whether there is a difference between sound as medicine, therapy, healing, and meditation aid. Here is a quick overview for you to understand what is meant by these terms:
Sound medicine, sound therapy, sound healing, and sound meditation are all terms that refer to the use of sound and music as a tool for improving health and well-being. However, these terms can have different meanings and connotations, and may refer to different practices or approaches.
Sound medicine is a broad term that can refer to any therapeutic practice that uses sound as a tool for healing or improving health and well-being. This can include a variety of practices, such as sound baths, vocal toning, and the use of musical instruments, and may be used in conjunction with other holistic or complementary therapies.
Sound therapy is similar to sound medicine, but may have a more specific focus on the use of sound as a therapeutic tool. This can include practices such as music therapy, which is a recognized healthcare profession that involves the use of music and musical interventions in a structured, evidence-based manner to address the physical, emotional, cognitive, and social needs of individuals.
Sound healing is a term that is often used to refer to practices that use sound and music as a tool for promoting physical, emotional, and spiritual healing. This can include a variety of practices, such as sound baths, vocal toning, and the use of musical instruments, and may involve the use of specific frequencies or vibrations to promote healing.
Sound meditation is a practice that involves using sound and music as a focus for meditation and mindfulness. This can include listening to music or other sounds, participating in sound baths or other sound healing practices, or using specific sounds or musical instruments as a meditation aid.
Overall, while these terms may overlap in their use of sound and music as therapeutic tools, they can refer to different practices and approaches, and may have different goals and intended outcomes.

Further explanations on these sound medicine variations can be found here.